Our first week for our Longy Cadets was fantastic!
Unfortunately the beach was closed due to massive surf, however the soccer ball was our best friend, and doubled as a dodge ball too.
The closed beach also allowed the 40 Cadets that were there to introduce themselves, along with the parent age managers and helpers.
We are blessed this season to have so many of our teenagers in the group, but equally a heap of parents willing to help "control" our large numbers.
Looking forward to a great season of fun, water and education ahead.
Stu and Craig (Cadet Managers, Long Reef SLSC)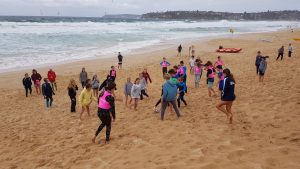 (photos by Craig Phillips)