Welcome Back to the
2023/2024 Season!
To ensure the safety
of our Nippers,
every child must meet the
proficiency requirements
How can parents
get involved?
PLEASE NOTE: Nippers registrations for the 2023/2024 season are now CLOSED due to a higher than anticipated number of new enrolments.
Welcome back to the 2023/2024 Season!
Nippers at Long Reef offers a safe and welcoming environment to grow a child's confidence, skills, and knowledge in the beach environment.
The Nippers program is designed for children aged 5 to Under 13 to have fun at the beach and meet new friends, while engaging in lessons that will provide the pathway to becoming a well-rounded participant in surf lifesaving.
Each Saturday afternoon our Nippers participate in beach activities tailored to their age group, including
swimming,
paddling,
running,
wading,
beach flags,
relays, and
beach games
They also acquire a diverse range of skills about
learning how to identify hazards on the beach such as rips or currents,
getting out of dangerous situations when in the surf,
diving under waves,
identifying dangerous marine life,
and a basic understanding of first aid.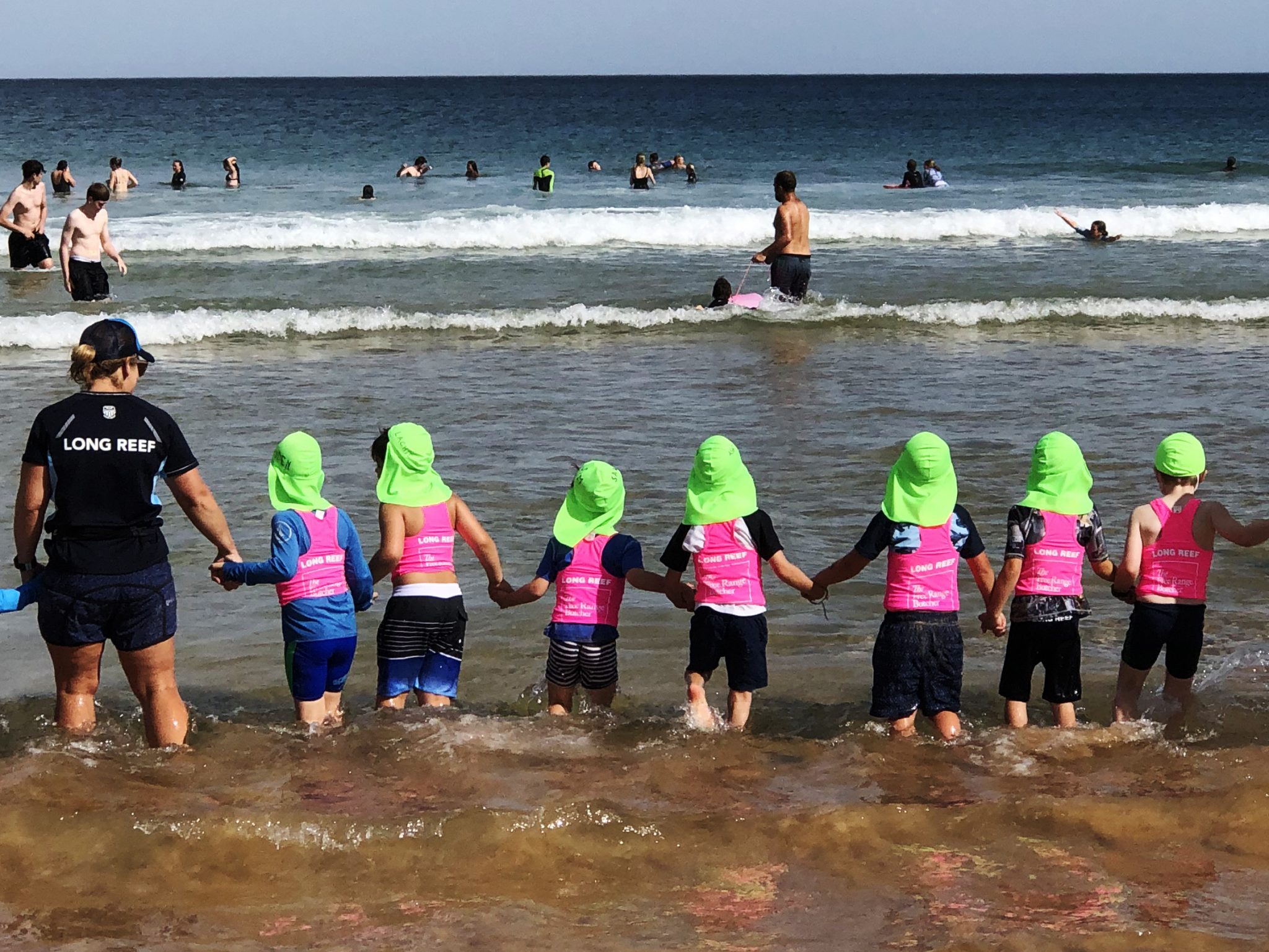 s BEFORE SIGNING you must:
Understand the proficiency requirements
Understand all Nippers much have at least ONE parent/guardian Member of Long Reef SLSC
Understand the requirement to volunteer and support your child's Age Group – all parents/guardians are expected to volunteer in some capacity over the season (see how parents can volunteer)
Download your active kids voucher if you want to use them
| | |
| --- | --- |
| NIPPER PROFICIENCY (U6-U13's) Collaroy Rock Pool | 16 Sep 2023 |
| NIPPER PROFICIENCY (U6-U13's) Collaroy Rock Pool | 23 Sep 2023 |
| NIPPER PROFICIENCY (U6-U11s ONLY) Pittwater House Pool | 7 Oct 2023 |
| AGE MANAGER AND HELPERS TRAINING EVENT (3.30PM – 5.00PM) | 14 Oct 2023 |
| 1st Half of Season | 21 Oct 2023 – 16 Dec 2023 |
| 2nd Half of Season | 13 Jan 2024 – 9 Mar 2024 |
Nippers must be registered in the correct age group.
Use the following table to determine your child's age group.
| | | |
| --- | --- | --- |
| Age Group | Stage | Date of Birth |
| U6 | 1 | 01/10/2017 – 30/09/2018 |
| U7 | 1 | 01/10/2016 – 30/09/2017 |
| U8 | 1 | 01/10/2015 – 30/09/2016 |
| U9 | 2 | 01/10/2014 – 30/09/2015 |
| U10 | 2 | 01/10/2013 – 30/09/2014 |
| U11 | 2 | 01/10/2012 – 30/09/2013 |
| U12 | 3 | 01/10/2011 – 30/09/2012 |
| U13 | 3 | 01/10/2010 – 30/09/2011 |
To ensure the safety of our Nippers, every child must meet the proficiency requirements to participate in water activities.
If your child does not meet the proficiency requirements they will not be allowed in the water, but they will be able to participate in sand activities.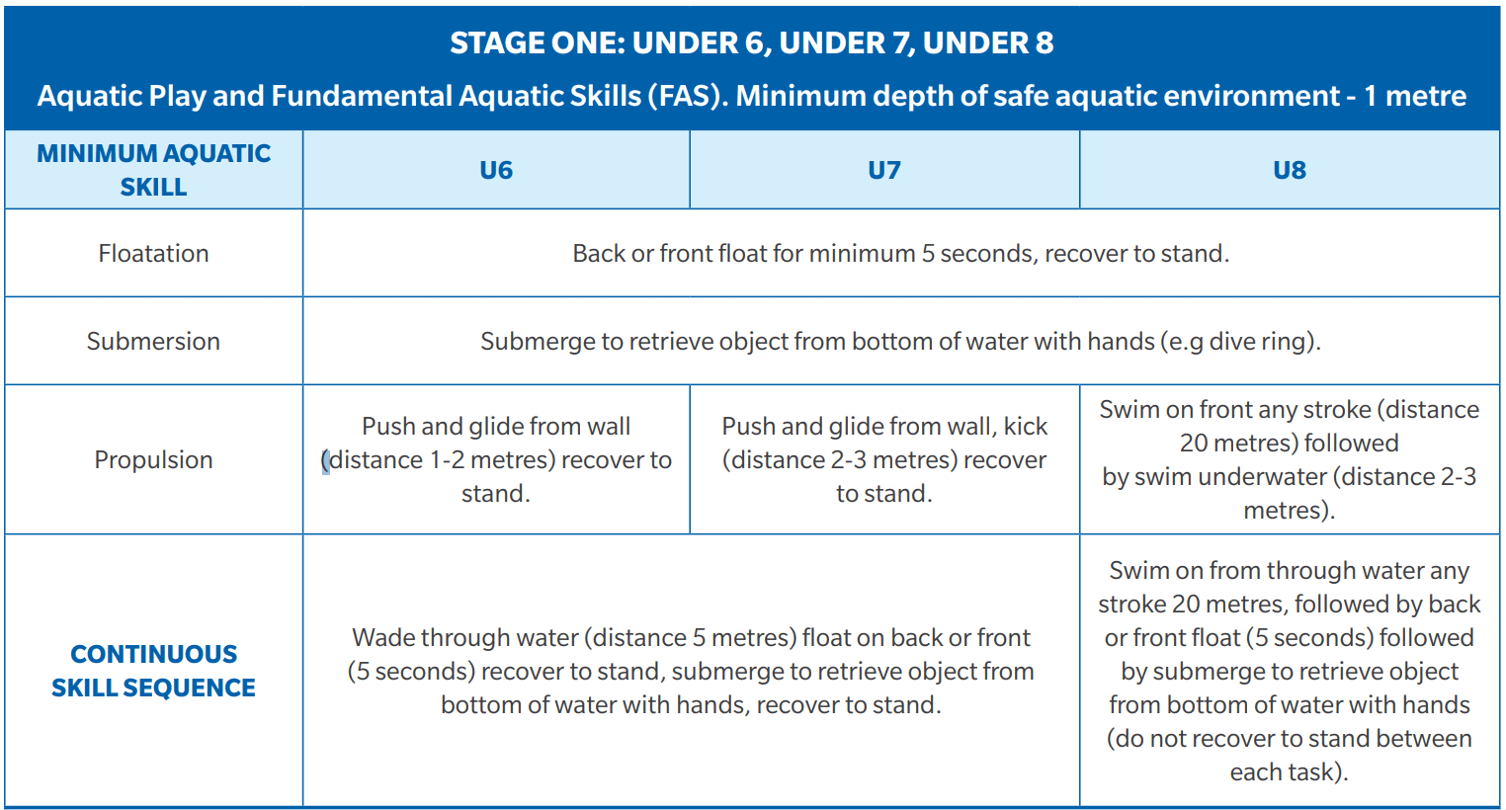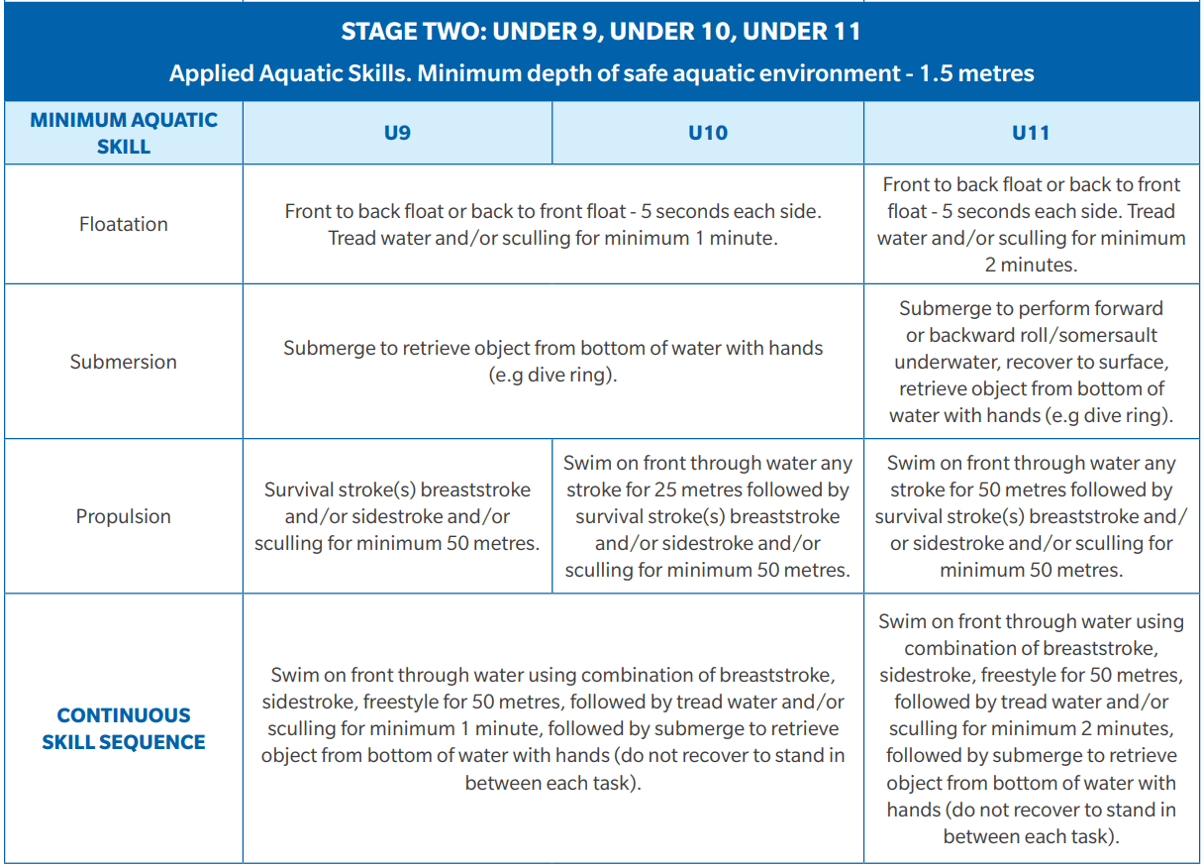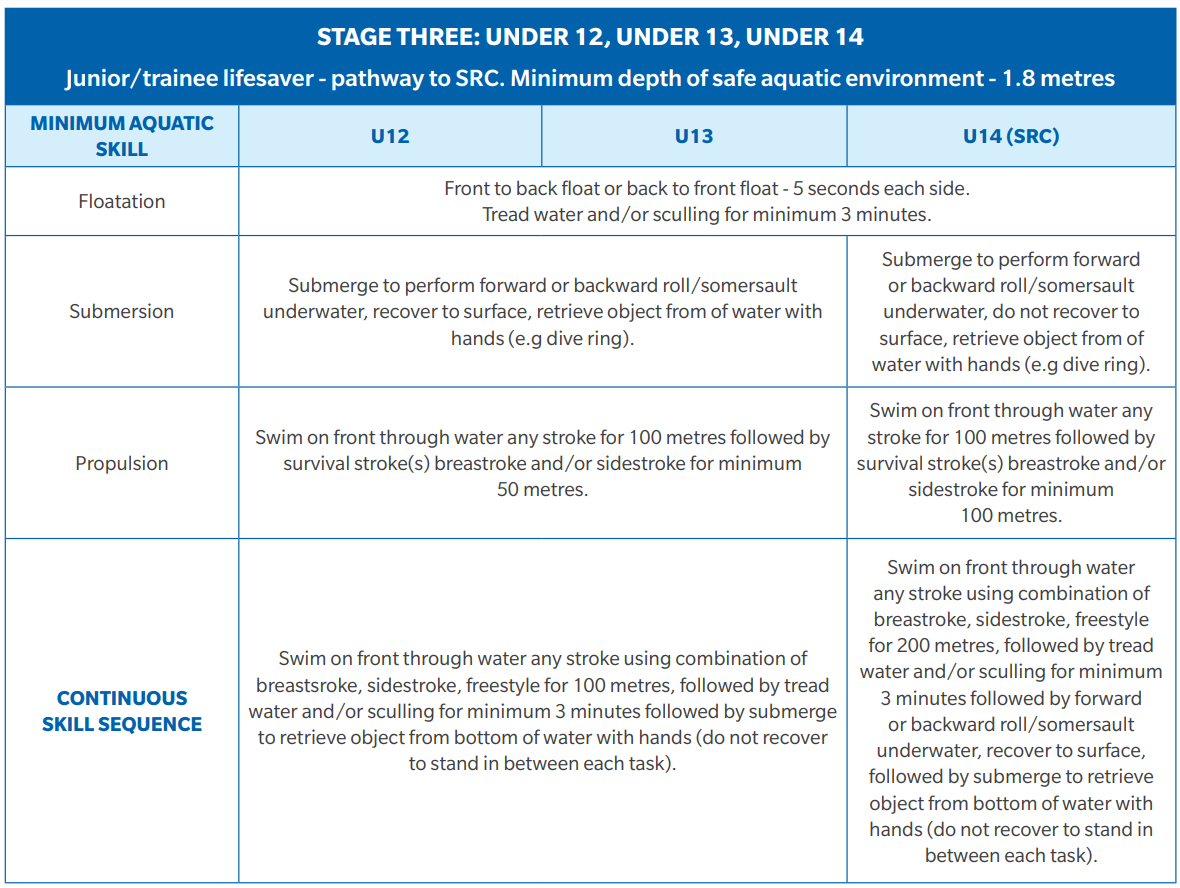 Our Nipper program is run by volunteers, so we rely on new and returning parents to help us run the program each season.
It is a great way to have fun with your child, while giving back to our community. We are always in need of parents willing to volunteer their time to be Age Managers, Water Safety, or other essential roles by helping in the Set-up/Pack-down, BBQ area, Bar, Uniform Shop, or Admin.
It is for the above reasons why we require all families to complete at least 3 duties over the course of the season.
To access the Nippers Volunteers Form, please click here.
If you'd like to become an Age Manager, please sign up here.
To join the Water Safety Team, for which you need your SRC or Bronze Medallion, please sign up here.
We will be running a Water Safety Swim Proficiency Event on Saturday 16  September at Long Reef from 4:30pm, followed by a MOVIE in the upstairs function room.  We had a great team last year and we hope to build on that this season.
If you're interested in gaining your SRC or Bronze Medallion, sign up here.
Feel free to come to our Nippers Information Event on Saturday 9 September 2023 from 3pm-5pm to find out more or contact us at admin@longreef.com.
Q. What activities do children do at Long Reef Nippers?
1. To provide a safe and fun environment for children to learn
2. Foster friendships, team spirit and fair play
3. Promote family involvement
4. To encourage children to participate in all aspects of the skills taught.
U6 and U7
In order to promote family participation, younger children (U6 and U7) are welcome as educational members of our Junior Activities section. No point score/championship days are held for these age groups and they do not compete in Carnivals. The modified beach and water activities are organised for fun and educational enjoyment. The kids in these age groups will learn basic surf safety and awareness. They will be introduced to beach flags, beach sprints and wading activities in the surf. A participation award will be given for their achievements throughout the season. These sessions go for about 1.5 hours, from 3:00pm to approx. 4:30pm on Saturdays.
U8 to U13
Nippers in these age groups participate in a friendly club internal points competition ­ where the emphasis is on learning skills and having fun with their friends. Nippers will also continue to complete the surf education learning program endorsed by SLS. U9 to U13 groups will also practice board paddling and ocean swimming around the cans. Other activities include the beach obstacle course, 1km beach run, flags and beach sprint. These sessions go for a little over 2 ­hours, from 3:00 pm to approx. 5:00 pm on Saturdays.
Q. Who runs Nippers?
A: Our Nipper program is run by volunteer parents, nobody gets paid to teach your children or take on an official role within the club. We rely on new parents and returning parents to help us run the program each season. We are always in need of parents willing to volunteer their time to be Age Managers or to do water safety and other essential roles (inc BBQ, Bar, Uniform Shop and Admin).
If we do not have enough parents to assist we cannot run our program,­ it's that simple! So please get involved, you do not need to be Guy Leech to do this ­ all parents can help out! You will also have a great time helping your children at the same time to enjoy the beach safely. Please email nippers@longreef.com to find out more information about becoming an Age Manager, or helping out with water safety or other roles we need to fill this season.
This year we require all families to complete three (3) duties over the course of the season.
Q. When does Nippers start, and what are the days and times it runs?
A: We offer a Saturday afternoon format of Nippers at Long Reef. The first Nippers session is on the website and will be a safety induction briefing for ALL parents and nippers. Please assemble at the clubhouse at 2.45 pm.
For each Saturday thereafter, Nipper session times are as follows:
➔ U9 to U13 3.00 pm to 5.00 pm
➔ U6 to U8 3.00 pm to 4.30 pm
Q. What age does my child need to be to join Nippers at Long Reef?
A: Your child must be 5­ years old on or before 30 September to enrol in our Under 6 Nippers program. From there on, Nipper age groups progress from U7 to U13. Age group placement is determined on the age of your child on or before the 30 September. For example, a child that is 8 years old as of 30 September this year, will be registered as a Nipper in our U9 Age Group for this season.
If your child turns 5­ years old AFTER 30 September, you may be able to enrol them after their birthday, provided there are places available in our U6 age group at the time of your request. Full season membership fees apply.
Q. How much does it cost to join?
A: Please refer to the fees schedule in our Membership Fees area by clicking here.
Q. Does my child need to be a good swimmer to do Nippers?
A: We DO NOT teach children to swim. All children, particularly nippers in U9 to U13 age groups, should already be comfortable pool swimmers.
ALL nippers are now required to undertake and pass a preliminary water skills assessment prior to the start of the season. Refer to the Proficiency Test for details.
Q. Can I get into the water with my child during Nippers?
A: You must hold a current Bronze Medallion certification or a Surf Rescue Certificate (SRC) to assist as official water safety that permits you getting into the water with your child. We encourage parents to obtain their Bronze Medallion or SRC. ­ Our club offers free training to parents who would like to do this as part of our Nippers Family Membership fee. Please email nippers@longreef.com for more information.  However, parents are encouraged take part in all aspects the program and events held throughout the Saturday afternoon session.
Q. Can my child do extra training outside of the Saturday session?
A: Yes, depending on interest and demand, we aim to hold extra competition-focused training sessions this season.  
We require volunteers to assist with water safety for these sessions, like all our activities.  Please sign up in the Volunteer Section above if you would like to assist with board training, or if you have any special skills that you could perhaps contribute to other training opportunities for our kids.  We are always looking for new ways to add more opportunities to develop our kids.   
Q. Can my child go to Nipper carnivals and compete?
A: Yes, our club encourages kids to compete at SLS carnivals if they would like to. If your child would like to compete this year, please email nippers@longreef.com to discuss this further.
Taking nippers to carnivals also requires commitment from parents as well, to assist club officials with the logistics of set­up/pack­down of club equipment, supplying officials and assist with water safety ­ we cannot offer carnival opportunities without this support.
Q. Does Nippers get cancelled if the weather/surf is bad?
A: Generally speaking Nippers will proceed even if it is overcast or light rain. If there is any lightning/storm activity in the area, officials will cancel or stop a Nippers session. If the beach conditions are generally unpleasant (extreme cold/wind), we will usually cancel or stop a Nippers session. Sometimes however the sun will be out, it will be a clear day but the surf conditions will result in the surf being closed. If this is the case Nippers maybe restricted to beach­only or flat­water activities (conducted offsite). We will always try to notify you as soon as possible as to any weather restrictions.
Q. Do I need to stay with my child during nippers?
A: Nippers is not a creche/child­minding service. Given the potential hazards in a beach aquatic environment, you MUST remain with your child at all times during Nippers (or have another parent willing to supervise your child ­ and advise the Age Manager accordingly).
Q. How do you communicate with your members?
A: Surfguard is the SLSA member database and you will be automatically added to it when you register your child.  Club-wide emails will be sent out via SurfGuard or 'Longy Bites' Newsletters.  The email address you provide when you register will be used.
Age Managers will set up WhatsApp chats for communications within your child's/children's age groups. You will be notified of any cancellations due to weather or surf conditions by your Age Manager on this WhatsApp chat. 
Q. How do I get my child their Nippers uniform?
A: You can purchase a full range of uniform and other club merchandise from our Merchandise Shop. This is run by parent volunteers and will be open from 1pm-3pm for the first 3 weeks of Nippers, after which it will be open from 2.30pm – 3pm each week.
Q. What child protection/safety policies do you have in place?
A: Your child's safety is the most important aspect of Nippers at Long Reef. All Age Managers carry out SLSNSW training, which includes a Child Safety Awareness Course.
If you have any concerns regarding child safety or wellbeing, please report the issue immediately to our Child Safe Coordinator at childprotection@longreef.com.
Q. How do I get more information about Long Reef Nippers?
Join the Long Reef SCLC Community!
There are different ways to become a member of Long Reef SLSC.
For further information on how to, please click the button below.