It's it a fish, a dolphin, no wait…. it's Santa!
It was a dark and stormy Nippers afternoon, but nothing stops Santa from showing up at Longy! He surprised us by arriving on the IRB just as the Nippers session was finishing up. The U6 girls spotted him first from the binoculars while learning about the patrol tent. They were jumping up and down with excitement.
Santa was spotted by Long Reef patrollers and was escorted in the IRB as he waved to us amongst the waves, jumped off the boat then ran up the dunes with Nippers frantically chasing him.
Santa was swarmed and loved by Nippers in the courtyard just before the storms came crashing down at the Nippers Party. He wished everyone at Longy a Happy Holiday season and a great 2019.
For those who braved the rain and hail, the party went on … faces were painted, music was played and sausages and beverages were were enjoyed.
Patti Gallagher, Long Reef SLSC, admin@longreef.com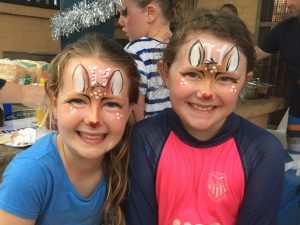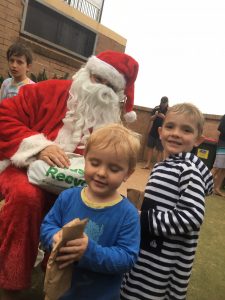 (photos by Patti & Kylie)