"The whole experience helped me grow and gave me confidence."
by Sinead Fisher
Hi. I'm Sinead Fisher and I've been a part of the club and attending Nippers since I was in U6s about nine years ago (I'm 13 now!). I was nominated to participate in the Sydney Northern Beaches Junior LifeSaver of the Year (JLOTY) Program. This is  a program where we celebrate moving up through Surf Life Saving.
I participated in a day-long workshop run by the Surf Life Saving Northern Beaches, held at Dee Why SLSC. We talked about leadership and discovered the different pathways that Branch offers. We learned about drones and how they help us with beach safety. We also talked to Branch Officers and emergency rescue teams — and my favourite part of the day was riding on the back of a jet ski! 
We also met other junior lifesavers from other clubs on the Northern Beaches and we created new friendship groups. This workshop taught me about the different opportunities that Surf Life Saving can offer. I enjoyed meeting new people and creating new ideas with our fellow peers.
On Tuesday the 19th of Jan 2021 we went into an interview with four judges at Northern Beaches Branch. We didn't know the questions and I think we were all nervous. A lot of the questions were about surf lifesaving and what it meant to you going through the Nippers program.  The interview at Branch grew my experience and gave me confidence for a job interview. 
Going into the JLOTY workshop and interview we had to come up with ideas that would help influence your surf club or influence at a branch level. My two ideas/initiatives were:
Idea 1: Wheelchair Project – Getting onto Long Reef Beach: 
During lockdown in March/April 2020, I started a project for school. I created a way to transport people with all abilities and age ranges – particularly wheelchair users so they could get over the dunes and enjoy Long Reef beach.  
It involved the Argo (patrol buggy) and a trailer. The Argo would tow the trailer with a wheelchair on it – and make the Argo more comfortable for the disabled/elderly to be transported over the Longy dunes. (It can be hard to get in and out of!) I was in contact with two engineers and researched wheelchairs and other mechanisms. 
I presented this project to the Micro-Credential Panel at LLV School which included the Principal, two Community Members, and Business owners in December. Long Reef is getting a new clubhouse and we have a temporary one at the moment. I was told by the Director of Facilities, Chris, that we would have to wait until the new one was built to look at it. I can't wait to start this project at Long Reef! 
Idea 2: Families having fun and learning surf awareness together! 
 Another idea I had is creating a program that involves beginner Nippers and their (non-experienced) parents coming together as a community and learning together about the ocean. There are a lot of families not from Australia who do not feel comfortable in the waves…yet! 
All levels would be welcome! These sessions could be held on a Sunday afternoon with Water Safety. Families will be able to get in the water and experience the waves in a safe place. 
Some benefits if they take this workshop –  
 ● parents gain confidence taking their kids to the beach, 
 ● families learning together about rips, surf survival, and having fun in the water
 ● helping the community in the long-run and families making new friends
 ● and maybe inspiring them to get their Bronze and be part of the SLS community.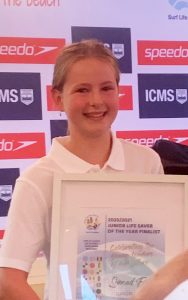 On Friday the 29th of January we went for a Presentation night at the Surf Life Saving Northern beaches, also known as Branch HQ. It was great to see all my friends that I met at the workshop. The presentation night was fun! We received backpacks and certificates for how far we had gotten as Branch Finalists.  
One female and one male were selected to move on to State JLOTY. I wish them all the best at State! I am grateful for the opportunity that the club and the Northern Beaches branch has given me.
Thank you to Long Reef and SLSNB for the opportunity. I am excited to be part of Longy. You will see me doing patrols, helping out with Nippers doing Water Safety and helping the Age Managers, and putting some of my ideas in action! 
About the program 
Each season Surf Life Saving Sydney Junior Development Committee holds the Junior Life Saver of the Year Program (JLOTY) that is open to U14s from across the State who have completed their time at Nippers and are now graduating on to getting their SRC, wearing the red and yellow on patrol, and serving their club and community. Each club nominates up to two U14 candidates who have an idea or a way to contribute to the SLS community.  
Candidates attend a day-long workshop and then are interviewed by a panel at the Surf Life Saving Northern Beaches. They are assessed on their knowledge of surf lifesaving, their active involvement within their surf life-saving club, their extended community, their leadership skills, communication and presentation skills, and their plans for their future role within surf life-saving. Each Surf Life Saving branch then nominates two candidates to represent the program at a State level.